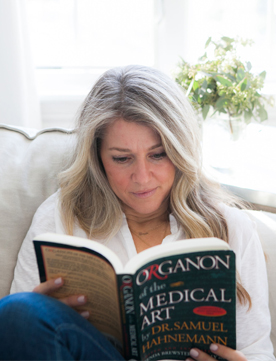 MY EDUCATION
I am Krista Rivet certified classical homeopath (DCHM, HOM, CCH, RSHom(NA)), holistic coach and Add Heart Facilitator. I have BA with honors from Queen's University specializing in psychology and health. I studied homeopathy at the Canadian College of Homeopathy in Toronto and received my Diploma of  The Canadian College of Homeopathic Medicine (DCHM). I am certified with the Council for Homeopathic Certification, internationally recognized as a Certified Classical Homeopath (CCH).  I am a registered homeopath in the province of Ontario, Canada (HOM) and also a member of the North American Society of Homeopaths (RSHom(NA)). I consistently update my studies by immersing myself in seminars and courses. I am also certified with the Heart Math Institute as an Add Hearth Facilitator. I have also studied with Radiant child yoga and am a children's kundalini yoga instructor.  My passion and areas of focus are children's chronic health issues, Anxiety/depression and women's health issues.
MY LIFE
I am a wife (hockey wife), mom and over all energy lover. I am passionate about nutrition,movement and our connection to something greater and the great power we all hold within. I love quiet days and just being at home. I love yoga and to cook. I am a researcher at heart and love to dive into a good book or listen to inspirational podcasts. As a young girl I was always mesmerized by the universe and the power of nature. I was fascinated by our body and the connection of our mind and soul. I could feel that we are so much more than our bones, blood and organs. I would ponder what is making our hearts beat, how animals just know what to do, how you instantly feel certain things when with certain people. All that deep stuff. That inner universe and how it connects to the greater universe was my passion. I am seeker of that energy that we feel and what can not be seen.
I grew up in Kingston, Ontario and have now settled in Buffalo, NY with my husband and 4 children and our dog Leo. It was in a university psychology class that I was given a book. Viktor Frankl's Man's Search for meaning. The notion that we always have a choice and the power of surrender was an a-ha moment.
"Everything is a choice. We don't always choose our circumstances but we do
absolutely 100% of the time choose our response."
This planted a seed for what was to come. I was very self aware but had inner conflict as I felt and knew this greatness but did not live this. I let my outside world dictate my life. I ignored my soul that was speaking to me. My day to day life buried it. I buried it. I felt like I was living with a mask. My soul was not in alignment with my actions.
When my children came I grew and learned so much. I believe our children are our best teachers. They mirror to us so much, what we need to work on and how to grow as humans. When my one son began a journey of ear infections, tubes and adenoids removal I wasn't satisfied and lived with conflict as what we were doing was not making sense to me but I didn't know of any other way. I would ask why, why is he getting so much fluid in his ears, why are his adenoids so large ect. It didn't make sense to just remove and fix the symptom, the reason why this was happening was not being addressed. So I researched and didn't stop until I got answers.
This is how I found homeopathy.
I was intrigued and saw first hand the magic it did with my son. This was life changing. So I went to school and become a homeopath.
During this time I dove deeper into yoga, discovered kundalini yoga and did energy work within myself. I just felt I wasn't living as me. I was scared to be me. But just went along day to day being a mom and wife but would live in books. I studied and studied.
I used homeopathy with my family and my husband during his playing career, but the biggest and most scary and most life changing moment was when my younger son was diagnosed with Ewing's sarcoma. Cancer. An extremely rare form of cancer.
"How did this grow within his body? What did I do to create this?
Why is this happening to us? To him? To me?"
That experience shook me and my family. It was of course imperative to remove the cancer but it didn't make sense to not go deeper. By integrating homeopathy and energy work he was a rock star throughout his treatment and surgeries. It pushed me to learn more and gain ownership of what was happening. So I became a certified holistic cancer practitioner.
That seed that was planted years ago about life always being a choice, began to sprout, it grew and I bloomed.
This was just the beginning of my journey. During his treatment something shifted within myself. The fire in my soul that was buried was screaming to come out. I was struggling internally with a sense of self and self love which was paralleled to the external obsession of dealing with the cancer within my son.
After living so long in fear I chose to accept this from a place of love not fear. I chose to accept and allow what was happening. To stop blaming everything on the outside. This experience showed me first hand the exceptional power we all have within. It was the biggest lesson. And I chose it as a lesson rather than an obstacle.
I now know the power of surrender and acceptance. I now know the power we have within. By addressing the whole person not just the physical parts I saw the power of our energy. I am able to trust what is happening. I now live with a sense of calm. I began to love myself.
With spiritual work + divine guidance + healing form homeopathy I am now allowing that light to shine and able to listen from within. I have peeled away the layers to reveal my authentic self.
I had to go through everything to truly heal myself before I could share and help others. I now look at life as a gift to learn from and to grow with. The most scary thing became my biggest teacher.
"I am now ready to share my story, to share my truth.
I hope to empower you to take ownership of your health, your mind, your body and your life.
To live from a place of love so you can trust and accept. To stop blaming out there"